iPROMOTEu - Alternatives in Advertising
Welcome To
Alternatives In Advertising, Inc.!

"To us, listening to why our clients want to grow is most important. We want our clients to trust that we will guide them through the strategic process, working with them to create the return that builds their business."
Additionally, we strive to give our clients an edge in their advertising efforts using creative, unique products combined with personal service and on-time deliveries. Our focus is to develop solutions to meet their every challenge.

Our goal for you:
More Business Through Better Branding
Featured Item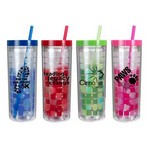 16 Oz. Mood Cube Tumbler (Spot Color)
16 Oz. cups are the perfect size for corporate events, parties, high schools and festivals. The items change color with ice cold liquids.
$4.85 - $6.50
What Our Customers Are Saying

The sew outs look fantastic! They NAILED the color on each one…they look really great and it was EXACTLY what I wanted. We'll be the envy of everyone in the College now; I'll be sure to tell them wh...
Theodore Caldwell, M.Ed.
Director/Assistant to the Dean for Diversity, Diversity Programs Office, College of Engineering, Michigan State University
Oct 19, 2015
Signature Showrooms