iPROMOTEu - Alternatives in Advertising
Welcome To
Alternatives In Advertising, Inc.!

"To us, listening to why our clients want to grow is most important. We want our clients to trust that we will guide them through the strategic process, working with them to create the return that builds their business."
Additionally, we strive to give our clients an edge in their advertising efforts using creative, unique products combined with personal service and on-time deliveries. Our focus is to develop solutions to meet their every challenge.

Our goal for you:
More Business Through Better Branding
Featured Item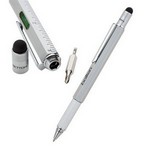 Graphica II Bettoni 5-in-1 Aluminum Pen ...
Twist-action ballpoint with textured metal grip, spirit level, 3" ruler, small Phillips and flathead screwdriver and a capacitive stylus that works with touch screen devices. Oxidation is required, on...
$13.99 - $19.99
What Our Customers Are Saying

"We just received the shirts, and we are blown away! They look great and your company was a dream to work with. My director has already mentioned we will want to work with you in the future for future...
George Hellmer, Health Physics Technician
Wayne State University - Office of Environmental Health & Safety
Aug 15, 2012
Signature Showrooms