iPROMOTEu - Alternatives in Advertising
Welcome To
Alternatives In Advertising, Inc.!

"To us, listening to why our clients want to grow is most important. We want our clients to trust that we will guide them through the strategic process, working with them to create the return that builds their business."
Additionally, we strive to give our clients an edge in their advertising efforts using creative, unique products combined with personal service and on-time deliveries. Our focus is to develop solutions to meet their every challenge.

Our goal for you:
More Business Through Better Branding
Featured Item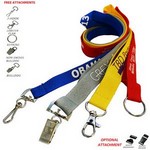 Lanyards 3/4" Polyester custom prin...
Polyester lanyards offer a near perfect balance of high performance product and a great low price. These are our most popular style of customized lanyards. Starting with top-quality polyester material...
$0.76 - $1.52
What Our Customers Are Saying

Mike & Ruthie have provided us with shirts, custom lunch boxes for our employees, holiday cards, customer gifts, sales usb drives, etc., for many years now and they have never failed us, they are help...
Filomena Scudiero
Datamax Services, Inc
Dec 02, 2015
Signature Showrooms